I really am so grateful, and it will make more of a difference than I have the words to explain. Thank you so very much – its beyond appreciated.
1 in 4 women in England and Wales will experience domestic violence in their lifetimes and 8% will suffer domestic violence in any given year (Crime Survey of England and Wales, 2013/14)
You don't realise how much of a difference having the small things makes.
Joanne* had to move into a refuge for women in 2016 because of abuse she was suffering at home. A student at University, moving away meant giving up everything.
After being at the refuge for 6 months, a flat became available for Joanne to move in to. Moving home is a big upheaval for anyone. Joanne suffers from OCD and change can be quite a challenge to take on, making the experience all the more difficult for her.
The flat that became available was completely empty and the floors were bare because of asbestos that had to be removed. As there was no furniture, Joanne was in a situation where it looked like she would be able to move into a new flat but, once there, have to sleep on the floor and make do with what little she had.
Joanne is in receipt of Universal Credit and PIP and as a result of what she had gone through, and having just left University, was not in employment. This meant that she was not in a position to be able to afford to furnish her new flat, a situation compounded by issues with delays in her Universal Credit payments.
Fortunately for Joanne, her flat is owned by not-for-profit landlord Curo. Curo became aware of Joanne's situation, and having worked closely with St John's on many occasions, was able to put in an application for funding support. The request from Curo asked that St John's pay for carpets for Joanne's new flat, as well as a bed, curtains and other essential furniture.
St John's was able to approve this application within a day of receiving it. Bath Contract Flooring was immediately instructed to quote for carpeting with an aim to complete the fitting prior to Joanne's moving date. Vouchers were issued for use at the local second-hand furniture supplier, Genesis Furniture Project, in addition to local drapers, Shaws. A bed was ordered from Bristol based registered charity, SOFA Project.
As a result of this support, Joanne was able to have a bed and carpets put into her flat, and collect her curtains, all within a matter of days of her moving in.
Upon hearing of the Funding Award, Joanne explained:
For Joanne, having the ability to live in a warm, safe home environment made a world of difference.
"Simply things like having curtains to stop people being able to see in, we take for granted"
Joanne is now in a situation where she is working towards going back to University in 2018. She is being supported by a network through the BaNES Recovery Team, and volunteering when she can at Bath City Farm.
*The person's name has been changed to protect their anonymity.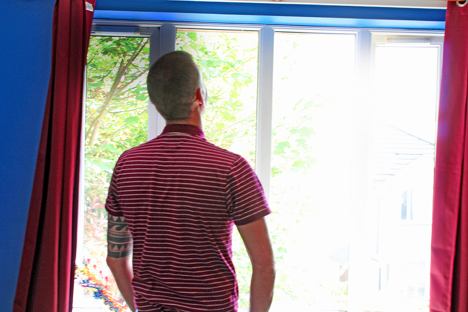 Since having my own place, for the first time in my life I feel stable. Being in my home feels like clockwork and relaxed. I love my place it's brilliant, my paradise.
Sam has led a self-confessed 'chaotic' life, struggling with drug and alcohol addiction and relationship issues. Sam engaged with local charity DHI (Developing Health and Independence) and their Reach Programme, which supports people to recover from addictions and to learn key life management skills.
Through the support Sam received he was able to overcome his addictions and has been sober for two years. He was also able to start to put his finances in order.
In 2017, Sam separated from his long-term partner and the mother of his children. Sam and his eldest son, who has learning disabilities and attachment disorder, had to leave the family home.
Sam cares for his son full-time, which makes employment impractical, therefore he has no alternative but to rely on state benefits.
Sam did not have the funds to move to a new home and furnish it with the essential items he needed. 'Reach' approached St John's Individual Funding team to apply for financial assistance to support Sam with his move.
In August 2017, St John's covered the cost of hiring a removal company to transfer Sam and his son's belongings. St John's also provided new carpets, a cooker and a fridge for Sam's new home.
Sam describes the move as seamless. Without the support he received from St John's and DHI, he does not know what he would have done. Sam feels that all aspects of his and his son's lives have now improved.
Over the past six months, Sam has been able
to spend more one-to-one time with his son, who is progressing well. Sam's own recovery has flourished as he has benefitted from a stable home environment, of which he is very proud. Sam is now in a position where he can provide support to people who are going through similar issues to those he has experienced.
He remains close to both Alcoholics Anonymous and Narcotics Anonymous.
'Through my volunteer work and the progress of my son,
my stability is making an impact when I am supporting others. This has directly come from the support of St John's and DHI to help me move and get me into
a good place with my addiction and finances.'
Sam is keen for his progress to continue and hopes that when his son starts secondary school, he can find employment again.
CS
The Life Project Core Funding (2014)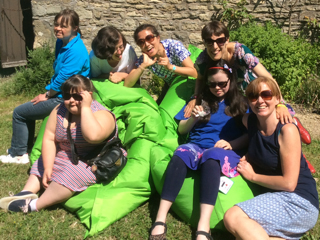 Miss T has a learning disability and in September 2016 joined the 'Makers' at the Life Project. Miss T had recently left Three Ways School and suffered the recent loss of a parent. She was understandably withdrawn and unsettled. She quickly settled into the Life Project's activities and became an enthusiastic gardener and keen cook. She produced some lovely art work and movingly painted a beautiful portrait of her deceased father and benefitted from a number of sessions where she was able to talk about coping with loss. At the Life Project Miss T was able to settle herself and blossom before taking on her next steps, moving on to college.
Estimates suggest that of the more than 3,000 people with learning disabilities in the BANES area, only 1 in 4 of those are known by local relevant service providers .
Registered as a charity in 2011, The Life Project was started by a group of Christian families with young adults who have learning disabilities. Their mission is to support people with learning disabilities in Bath area by:
• Providing homes for life according to their individual needs
• Providing a wide variety of daytime activities with opportunities to discover and develop new skills
• Creating an environment that promotes social development and nurtures healthy relationships
• Enabling people with learning disabilities to grow in their relationship with God and have a platform to express their uniqueness to the world around them
As a relatively new charity The Life Project needed the opportunity and support to work on its operations and to develop its organisational skills and capacity. The Life Project approached St John's in 2014 to apply to the three-year Core Funding Programme for funds to employ a Development Manager. The aim of the funding was to develop future sustainable activities, specifically work on the 'Old Acorn Barn' activities for young adults with learning disabilities, which include helping to produce wire plant supports for the garden, working on their allotment, preparing lunch or creating other "mouth-watering delights in our kitchen."
The Life Project was successful in its application to St John's and was awarded £45,000 over three years.
As a result of the funding the Life Project has been able to develop strategic objectives that have enabled it to focus on achieving its aims and objectives. The Life Project has gone on to gain further St John's funding to secure a base at the Southside Youth Hub, allowing the project to expand its activities and reach.
Sarah Couchan explains of the award
The Old Acorn Barn project is now fully self-financing with attendees paying to access it, which would not have been possible without the funding. We have also been successful in securing a number small grants from funders such as Chrysalis, Jug of Oil Trust and Quartet Foundation.
1. http://www.bathnes.gov.uk/services/your-council-and-democracy/local-research-and-statistics/wiki/learning-disabilities#footnote1_9xmchse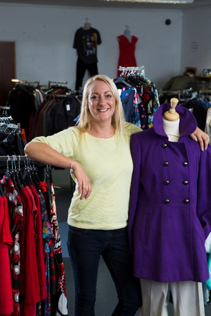 I can't point to anything specific that made me start drinking problematically; there was no trauma or event that triggered it. I just started to drink more and more over a period of a few years, before realising that I was addicted to alcohol and that things had to change.
I detoxed in DHI's Burlington House, a supported dry house and community detox facility, before moving into the main house. I started volunteering in a charity shop as soon as my detox had finished, and keeping busy has really helped me to stay abstinent.
Not only has DHI helped me to turn my life around, but I have also forged strong friendships with the people I've lived with in Burlington House; friendships that I hope will last a lifetime"
Set up in 1999, Developing Health & Independence is a registered charity that runs innovative services to help disadvantaged people and those living on the margins of society turn their lives around. DHI sees the person, not the label, and finds the most effective way to help people through highly practical, solution focused projects and services. These services include supported housing, substance misuse treatment and social prescribing. DHI currently supports over 4,500 people a year, like Jo (above).
DHI has faced severe reductions in its contract funding and was therefore seeking to reposition itself in order to strengthen its funding base. DHI therefore approached St John's with the aim of developing a strong, well communicated purpose and vision to inspire others. The result of this would be an organisation stronger and more confident in how it engages with partners, stakeholders and potential funders.
St John's provided DHI with £30,000 in June 2016 to run a 7 month project in conjunction with a local communications agency – The House – aimed at increasing awareness of their work and the impact this has in local communities.
Rosie Phillips, CEO explains how the funding impacted them:
"The funding has enabled us to develop our internal and external communications in order to broaden our reach to a wider range of audiences. We have been able to develop a more compelling message about the impact of our work, in particular using stories. This is already bringing about a greater understanding of the difference we make and is helping us inspire our stakeholders and potential funders to support our work. This ensures that we are resilient and can continue to support all those in need of our services and turn their lives around in spite of the fall in contract income."
Since being awarded the funding, DHI was chosen as Bath Business Club's UK Charity Partner and has made approached to other potential donors. DHI has seen a marked increase in media coverage through local radio, print and TV media outlets, with their CEO voted "most influential person in Bath" in a recent poll run by the Bath Chronicle.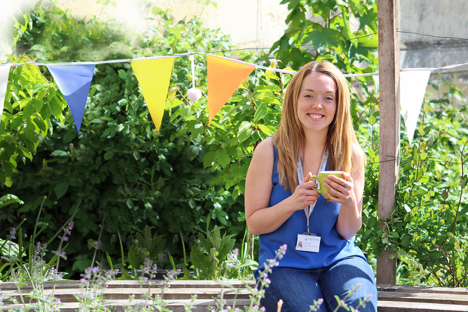 The average life expectancy of a female rough sleeper is just 43 years. Statistically, homeless women struggle more when living on the streets than men.
Julian House is a charity offering
direct support to some of the most marginalised people in society – the homeless. They do this through a range of services, including; support for those suffering domestic violence; addiction recovery; individuals with learning difficulties; work experience and training.
In 2016, the Bath based team identified a key area of need they wanted to address: an increase in the proportion of homeless women in Bath and the lack of provision to support them through multiple and complex needs.
The team felt the best way to improve support for these women would be to employ a Specialist Female Support Worker. The aim
of this role was to engage with the hardest to reach individuals and increase their access to and engagement with services, supporting women to achieve their aspirations
and potential.
Julian House approached St John's in 2016 and applied for £29,740 for one year's worth of funding to pay for the full-time Specialist Female Support Worker role. Julian House was successful with its application and was granted the award to carry out its work.
31 women directly benefited from the support of the Specialist Female Support Worker; one of those women was Michelle.
Michelle* was an entrenched drug user and regular rough sleeper in Bath and had been known to Julian House since 2008. Michelle initially fled to Bath from Wiltshire after suffering domestic abuse. She suffered with mental and physical health problems and initially refused to engage and seek support for her problems.
With the support of the Julian House Specialist Female Support Worker, Michelle was able to build trust and make the most of support services available to her. Michelle is now in part-time employment having been unemployed for 10 years and has her own flat, which she is able to manage.
Helen Bedser, Development Director, at Julian House said:
'Our most successful achievement has been that, as a result of this project, no woman has spent a second night out on the streets.
The worker has been able
to quickly build trust with vulnerable women, so they feel empowered to access the support and services
they need.'
'The St John's award has helped us to achieve our aims for a very vulnerable and excluded group of women, where previously services were inadequate and/or not specifically tailored to their needs.'
Following the success of this project, Julian House will not only look to source further funding to keep this Bath based role going, but will look to include similar provisions in its other geographic bases.