While it is our properties that generate St John's funds, it's our staff with their collective skills, experience and dedication who help to make St John's the organisation it is today.
We embrace our organisational values of Courage, Kindness and Trust and try to apply these values to everything we do and in how we treat one another.
The breadth of St John's work necessitates a diverse workforce and each one of our employees helps to make our organisation an uplifting and cohesive place to work.  We actively encourage the sharing of ideas and promote continuing personal development.  Members of staff enjoy being part of a caring organisation which, in turn, is making a real difference to people's lives in the community.
As opportunities arise, we will post them on our vacancies page, so please check regularly for the latest updates.
St John's is a Living Wage Employer.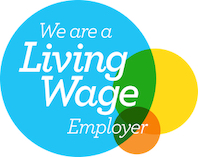 Search St John's for events, activities and more…