Beneath St John's busy city centre offices, there are a staggering 215 metres of archive shelving filled with historical records. The records span twelve collections and five centuries of the charity's history.
The archive is populated by records created through the Foundation's routine business, as well as work produced for special events. There is a printed book collection and even some 18th and 19th century documents, which were found in a basement during renovation work.
Small elements of the historical collections have been displayed at exhibitions, talks and events over the last decade. Unfortunately, to ensure the preservation of fragile unique originals, much of the collection cannot be shown, but the Holburne Museum was recently able to display three of our silver artefacts (dated 1674 – 1735).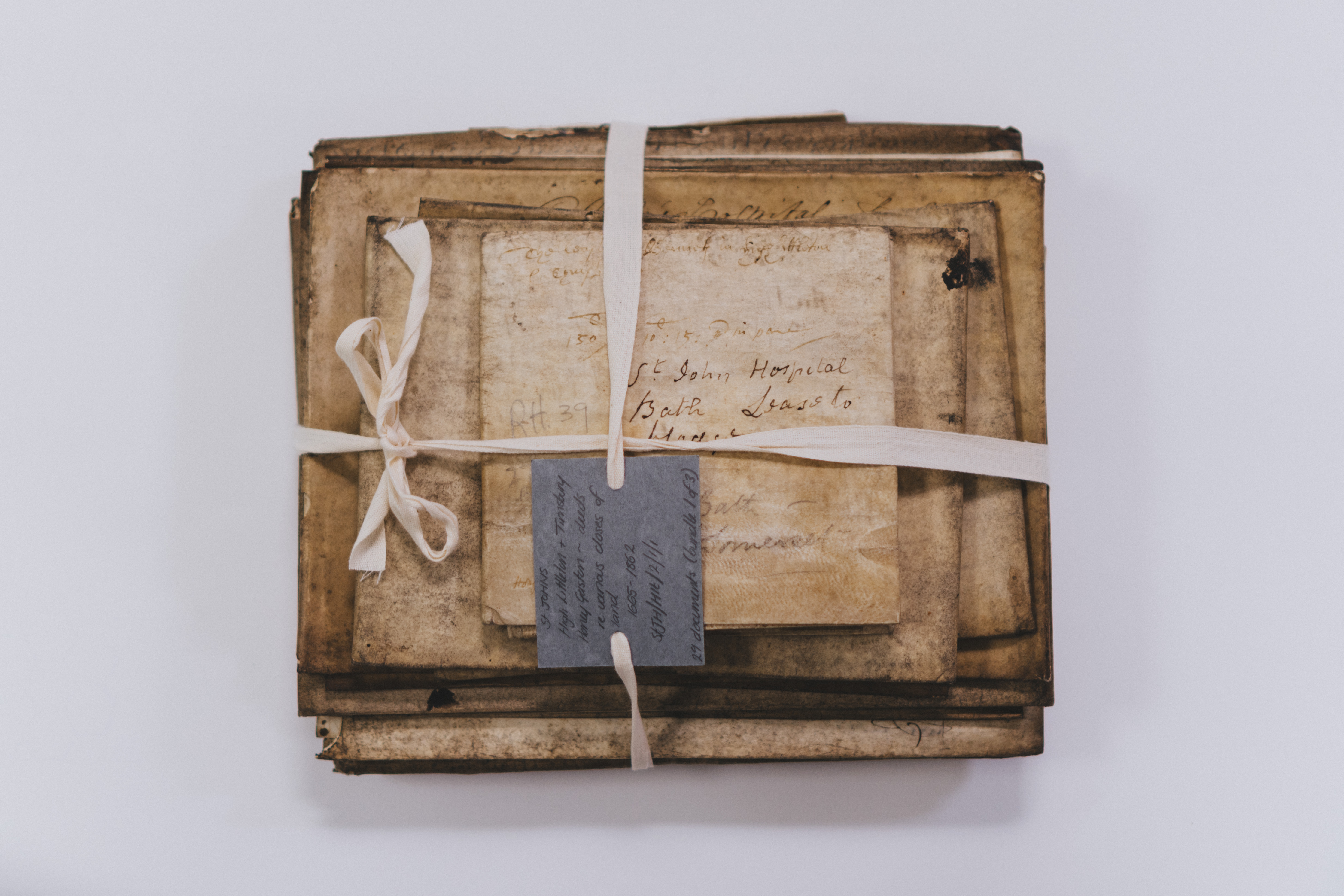 The Archive
Although St John's was founded in 1174, the oldest record held in our archives dates from 1610. Nonetheless, it offers a valuable insight into the Foundation's history.
There are records of the organisation's administration ranging from financial ledgers, board minutes and property deeds. There is also a wealth of social history as the voice and lives of those granted support shines through in letters and application forms. What strikes many visitors is how little has changed from the challenges faced by society today. Particularly prominent is the working poor, a headline in many news features, but also shown throughout our history as applicants describe their efforts to make ends meet.
The Modern Record Store
The modern record store contains the records that are no longer needed on a regular basis by staff, but that may be needed for future reference. These are kept for a time designated by legal and business need.
Once that period has expired, which could be as long as 40 years, a member of staff from that area and the archivist review the documents to see if they are still needed and to decide whether they are of a historical interest. A large volume of records are then securely destroyed, while some are moved to the permanent archive.
Although the modern record store is restricted access, members of staff regularly request records to reference and use in their work today.
Although the archive isn't a key part of our charitable work, our heritage is an integral part of St John's. The purpose of the archive and modern record store is to support modern decision-making and to act as a memory for the charity.
Next time you walk through St John's courtyard and gaze around at the historical buildings and beautiful chapel, you will know that there's yet more history beneath your feet.