St John's Foundation is delighted to welcome the Elves' Swapshop into one of our recently vacated buildings. This wonderful initiative aligns perfectly with our Foundation Fund that supports disadvantaged children aged from birth to 12-years-old living in Bath and North East Somerset.
The Bath BID and Share and Repair Bath have teamed up to bring an enchanting and environmentally minded Christmas to families in Bath.
From 26th November to 19th December, they are inviting children to visit the Elves' Swapshop to St John's vacated property, 5 Old Bond Street, where they have trained the Share and Repair volunteers to refurbish toys and give them a new, loving home.
Tickets are available for a workshop demo and a jolly singalong with the elves for children and their adults, with family tickets available for a maximum of three children.
Children are being welcomed along to see the fabulous Elf-O-Matic toy upcycler in action by bringing a toy to be gifted to another lucky child. With the help of Elf-O-Matic technology, the elves will make sure that each toy is safe and clean and ready for its new home. Everyone who brings in a toy can see the machine in action and will be invited to take home a toy of their choice.
The Elf-O-Matic machine was the brainchild of Allison Herbert, Chief Executive of the Bath BID, and was brought to life by theatre and festival set designer and maker, Vix Fuller. Over 85% of the machine was made from reused, recycled, upcycled and preloved materials, including Vix's children's former playhouse, a Perspex cog that was previously used at Glastonbury Festival, and doors from former Bath nightclub, Bath to Mine.
As well as meeting the elves and marveling at the Elf-O-Matic machine, children will have the opportunity to post their Christmas wishes into Father Christmas' post box. Letters that include a stamped addressed envelope will receive a special Christmas greeting from Father Christmas.
The environmentally-minded Elf-O-Matic gives children a chance to put the 'reuse, repurpose, recycle' message into action as they swap used-for-used in a fun and festive way.
Allison Herbert, Chief Executive at the Bath BID, said: "Father Christmas' elves work so hard every year to ensure children all over the world, and this year, we are keen to give them the recognition they deserve!
"We are delighted to be working with Share and Repair, who work hard in the community all year round to help people save money and help the planet.
"This is an exciting part of our work to bring people into the city over the Christmas period, helping to support Bath's business community."
Lorna Montgomery, Founder of Share and Repair, said: "This is the perfect extension of our vision and purpose to inspire and deliver more opportunities for extending the life of items – in this instance, toys. The idea and its implementation are inspirational, and we are delighted to partner with the Bath BID in its delivery. We're looking forward to having lots of 'green' fun for children and adults!"
Vix Fuller said: "I was really excited to be given the chance to make the Elf-O-Matic toy upcycler, not only because it offered the chance to make something intriguing for children but also because I was able to create something that involved upcycling and reusing materials without buying new.
"I have repurposed many old or broken items in this project, including lots of my children's old toys. Each day, the machine evolved depending on what I found to add. I hope children will be inspired by the Elf-O-Matic, and that the Elves' Swapshop will show that a toy doesn't need to be new to be special."
We are delighted to announce that we are hosting a Christmas fair and market on Friday 3rd December, 11am – 3pm in The Chapel at 4-5 Chapel Court, Bath, BA1 1SQ.
There will be an array of gifts, crafts, pottery, plus much more for you to buy for your loved ones this Christmas.
We look forward to welcoming you!
For more information call 01225 486401or email goodliving.enquiries@stjohnsbath.org.uk
Exciting British Artist Dan W Griffin today announced 'Dignitastic! Where Art Meets a Terminal Lung Cancer Diagnosis', an exhilarating new art exhibition at 44AD Artspace Gallery in the beautiful Roman Spa City of Bath.
To celebrate, he is gifting the city's Royal United Hospital a unique work created exclusively for the staff and patients of the Oncology Department. The presentation will take place at the hospital in August at a time to be confirmed.
A LIFE TRANSFORMED; FIRST BY A TERMINAL DIAGNOSIS, AND THEN BY THE ONSET OF A DEVASTATING PANDEMIC & LOCKDOWN
Diagnosed in January 2020 with an ultra rare form of lung cancer, Dan, a filmmaker, had barely begun to come to terms with the finality of his existence when the Covid pandemic struck and the nation entered the surrealism of lockdown. "It had crossed my mind that the Apocalypse was upon us" Dan said, "but I had thought the same thing when a corrupt orange sociopath and former game show host was elected to the US presidency. I didn't know what was going on with the world, I just had an impulse to paint. And so I did."
Dan's work is greatly inspired and influenced by the natural world and the elements, consistently reflecting a parallel between his own stark reality and the raw, brutal power and stunning beauty of the Earth. "My artistic mission is, and has always been to fill my life with colour. Not all cancers are terminal, but each and every diagnosis is, for patients, their families and their friends, dark and often frightening. It's not much, and I wish I could offer more, but I hope my work can introduce a little colour to the darkness; perhaps a little optimism, a dash of positivity to us all."
Dignitastic! Where Art Meets a Terminal Lung Cancer Diagnosis is Dan W Griffin's first ever public exhibition. It opens August 24th at 44AD Artspace Gallery at 4 Abbey Street in the beautiful Roman Spa City of Bath for five days. Private and One-on-One Guided Views are available. For more information or to apply, please contact the gallery, or visit the website.
With more people than ever before relying on food banks and donations, this year has shone a spotlight on the crucial issue of food poverty affecting the UK. The impact of the pandemic has been vast and has forced many individuals into a position where they now have to seek help to feed themselves and their families. For many, 2020 has been full of difficulty and unimaginable challenges.
One of the lasting memories of this year will be when the government voted down the decision to provide free school meals to children during the October half term. What followed was a huge outcry, with people determined to do something to help. Locally and nationally, people donated, volunteered and campaigned.
This ignited a fire in the belly of the #ENDFOODPOVERTY campaign which, famously, had the support of footballer and activist, Marcus Rashford, as well as large scale charities and organisations. This saw the issue discussed at national level, with realities of food poverty shared widely.
Closer to home, the Bath community was determined not to let local children go hungry over half term and so the BaNES Holiday Hunger Appeal was established; the public raised a staggering £55,000 in donations– undoubtedly, the most rapid public response to a local food crisis and a testament to the residents of Bath and North East Somerset.
Food Poverty is a crisis that must be addressed both locally and nationally and we need to do all we can do support families in Bath and the surrounding area during these unprecedented times. When St John's was asked to be part of the BaNEs Appeal, we were delighted to be able to help.
We joined forces with BaNES 3SG and Welfare Support to distribute the money raised to community-led food projects which are making a real long-term impact on food poverty. The organisations awarded the money were FareShare South West, Mercy In Action – Action Pantry, Oasis Hub, Weston Welcome Cafe and Food Club, Southside Family Project and Family Action.
As food poverty became a prominent feature in the national news, it was also centre stage at St John's. At the beginning of this year, we launched our Foundation Fund. Our overarching aim for this fund is to build a community where children are supported to grow up healthy, happy and educated. Presciently, one of the four key workstreams of the Fund is to provide children with nutritious food. To do this successfully, first we need to support the infrastructure of our partner charities that are delivering food on the front line. The money raised through the Appeal was essential in making this happen.
The #ENDFOODPOVERTY campaign and the BaNES Holiday Hunger Appeal have demonstrated that our ambitions are strengthened when we work alongside one another. And continuing in the spirit of partnership-working, we are also part of the Food Poverty Steering Group; this is a network led by BaNES Public Health team, where local food providers and key stakeholders come together to tackle food poverty. It appears that some 'good' has come about as a result of the pandemic with organisations seamlessly coming together to help create a lasting impact for our community.
With Christmas only days away, it's crucial we continue to look after the vulnerable members of our society. Going forward, it is also essential that we continue to harness the power of partnership. Joint working has proved the most effective way to support those in-need and ensure resources are reaching the places where they will have the biggest impact. In the words of the inspirational American child poet Mattie Stepanek, Unity is strength…when there is teamwork and collaboration, wonderful things can be achieved.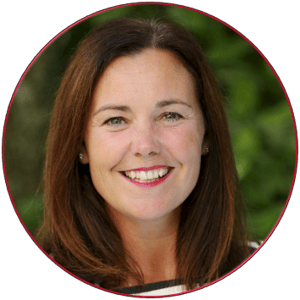 Louise Harvey is Executive Director of The Foundation Fund. St John's has committed to focus funding over the next ten years to ensure every child under 12 is supported to grow into a healthy, happy and educated member of the Bath and North East Somerset community.
Louise has worked for St John's for 17 years and uses her passion, energy and 'no challenge too great' attitude to break down barriers to bring the Third Sector, Education and Businesses together.