"I look forward to the sessions and feel a sense of family and belonging despite being apart from so many of my own immediate family. I am and always will be so grateful."
Our lives are lived at such a pace these days; we go from one meeting to the next, one phone call to the next, barely stopping to breathe.
I'd been introduced to a brilliant breathing technique by a friend of mine who is now a Life Coach, and I found it so helpful. The technique enabled me to slow down and be calm, even when faced with stressful situations.
I began to think that if I found it this helpful, then others would benefit too, so I created Breathe&Begin. It started exclusively as an offering to the staff at St John's and then due to demand, it expanded to include a wider community around Bath. The concept was to help people to engage with the day, in a focussed and calm way. Each day would offer a short, themed reflection, with quotes (from businesspeople to world leaders), a verse from the bible, finished with a prayer.
After just a few weeks of hosting in-person weekly sessions with a small group of people, we found ourselves in lockdown.
I decided to establish an online Breath&Begin community to for new and existing members to join. Via the St John's Facebook page I began to lead sessions Monday to Thursday mornings, mostly with about 20 – 30 people engaging with it each day. After the first lockdown ended, I went from four days a week to Tuesday and Thursday mornings. During the times of isolation people found the sense of community helpful:
"Jacky's Breathe and Begin sessions have been such a help and comfort during the long months of lockdown. Her soothing voice and her breathing technique along with her pertinent and thought-provoking quotes and prayers have taught me to relax and start the day in a positive and uplifting way. Jacky has also helped to alleviate loneliness and the feeling of isolation the pandemic has brought and to appreciate the small things and blessings we still have." Elspeth 
"Logging on and seeing Jacky's smiling face welcoming you is such a lovely start to the day. With her soothing voice and non-judgmental air, you allow yourself to be drawn away from the world of deadlines and commitments and to just concentrate on being present. We were all so excited when Jacky joined St John's and she's such a great advocate for bringing people together, even in times when we are separated from one another" Cathy
It's been a privilege getting to know some of the people who have been regularly tuning in.   Many of us found focusing hard during lockdown due to the external noise around us and many participants found finding ways to do this useful:
"Often at the beginning of my working day I feel quite overwhelmed.… Breathe and begin has been a gift as it grounds me in God and calms my body too through the breathing techniques. The overwhelmed state often results in a lack of focus and then can result in a disabling panic which in turn means I achieve little which can be a vicious cycle… There is a real benefit too in not being expected to do anything but just be and to be ministered too…. Thank you…" Ellie
We all need to 'belong' and that was pretty hard during the lockdowns. As we ease out of this third lockdown, we've started back in the Chapel on Tuesday mornings, but as Breathe&Begin has become a community in its own right, the Thursday mornings continue online. Everyone is welcome, and I'd be delighted to see the two groups grow.
Just slow down.. and breathe…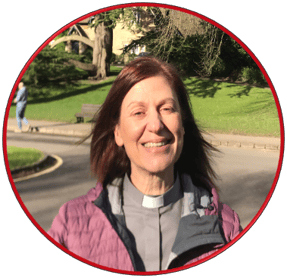 Reverend Jacky Wise