Why does St John's play such a vital role in Bath and the surrounding area?
The environment that St John's operates in, is a challenging one, where wealth and deprivation sit side by side.
St John's Funding Support Team witnesses, first-hand, the true levels of need that exist beneath the glossy veneer and we are working hard to try and address some of these issues.
Snapshot of issues impacting Bath and the surrounding area:
How does St John's help to address the social issues affecting our communities?
Our Outreach Service was established in 2015 expressly to target isolation and loneliness amongst the older population. Our flagship activity hub at our city centre site, was so successful that we have now rolled the model out to other hubs across Bath and North East Somerset.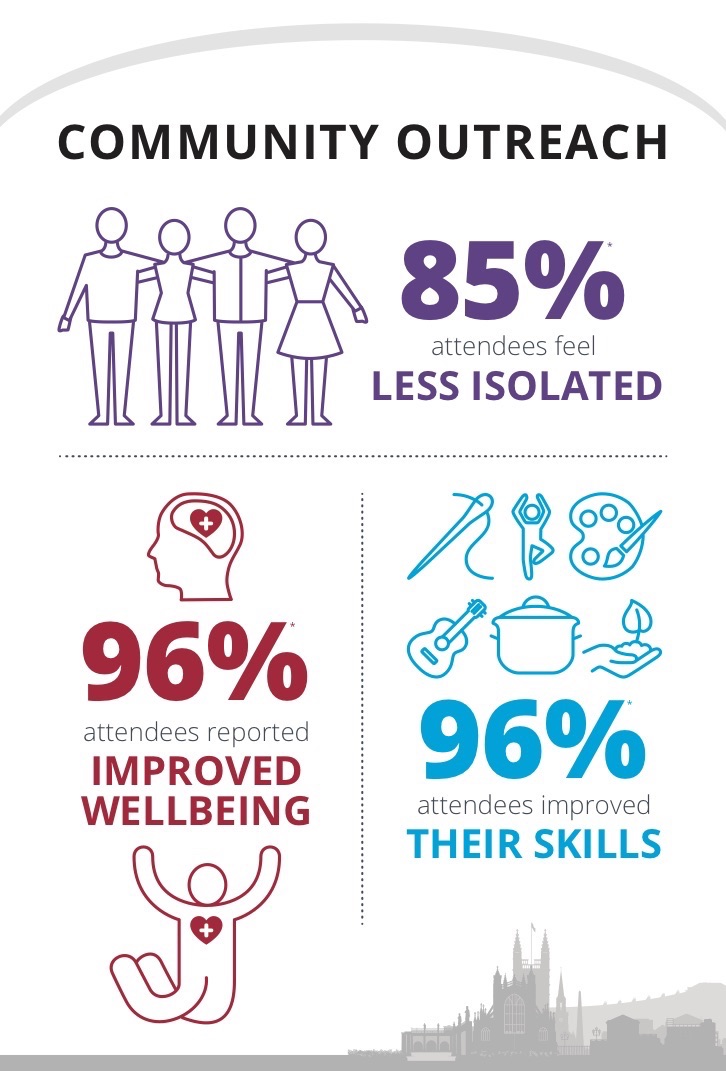 St John's almshouse provision and associated Independent Living Service for older adults ensures that people get to live in their own homes, safe in the knowledge that there is, if needed, support form neighbours, community and staff. Additionally, support staff provide cover seven days a week to our residents.
In addition to our almshouse provision, we also own several residential and commercial properties in and around Bath. These are rented on the open market and most tenants specifically choose to rent from St John's, knowing that their rental fees are then re-invested to help support activities and projects in the wider community.
Going forward, St John's is currently exploring how it can assist with the shortage of affordable housing and other specialist accommodation for the younger generation. We are also looking at how we may best be able to create safe spaces for vulnerable adults and to support the increasing number of people who are in work but still unable to make ends meet and lift themselves out of poverty.
The amount of funding awarded has been increasing, year on year, and we currently distribute £2.1 million annually to local organisations and charities; these organisations approach St John's on behalf of individuals who have reached a crisis point in their lives. Often this is as a direct result of local authority cutbacks in the region, house prices being significantly out of the reach of most people and the current five-week wait for Universal Credit.
With its long-established reputation, St John's has built valuable partnerships with local organisations that are providing critical front-line services. The charity believes that the greatest impact comes from working in collaboration with others, not in isolation.