Welcome to Bath Women's Fund
Bath Women's Fund celebrates women's philanthropy and the wonderful local people and organisations that empower and support women, girls and families. We give collectively to achieve a greater impact – each member donates £25 per month (or £20 plus Gift Aid), or more if they wish.
Together, we decide each year on a theme for grant making, learn about the issues involved and then decide how the funds will be allocated to make the biggest impact.

Giving in 2020
In 2020 we awarded our first ever grant of £10,000 to Mentoring Plus for their Inspiring Girls project. This money will help set up new Girls Groups in three local schools.
Ruth Keily, Executive Director of Mentoring Plus, said: "They want more girls to experience supporting each other, to meet inspirational women and to be heard. They want the girls of the world to realise their potential and find their voice, starting in their own communities."
On Wednesday 15th July, Bath Women's Fund members met virtually for their first Grants Award Evening, compered by BBC reporter/presenter Ali Vowles. The three local charity finalists for the 2020 grant programme – Julian House, Mentoring Plus and SARSAS (Somerset and Avon Rape & Sexual Abuse Support) – presented their projects and answered questions from Bath Women's Fund members. Each member has one vote to choose the charity to receive the main grant and Mentoring Plus won the most votes in a close contest.
In the Autumn, members will be choosing their theme for 2021's giving, and we hope to have more funds to give away next year.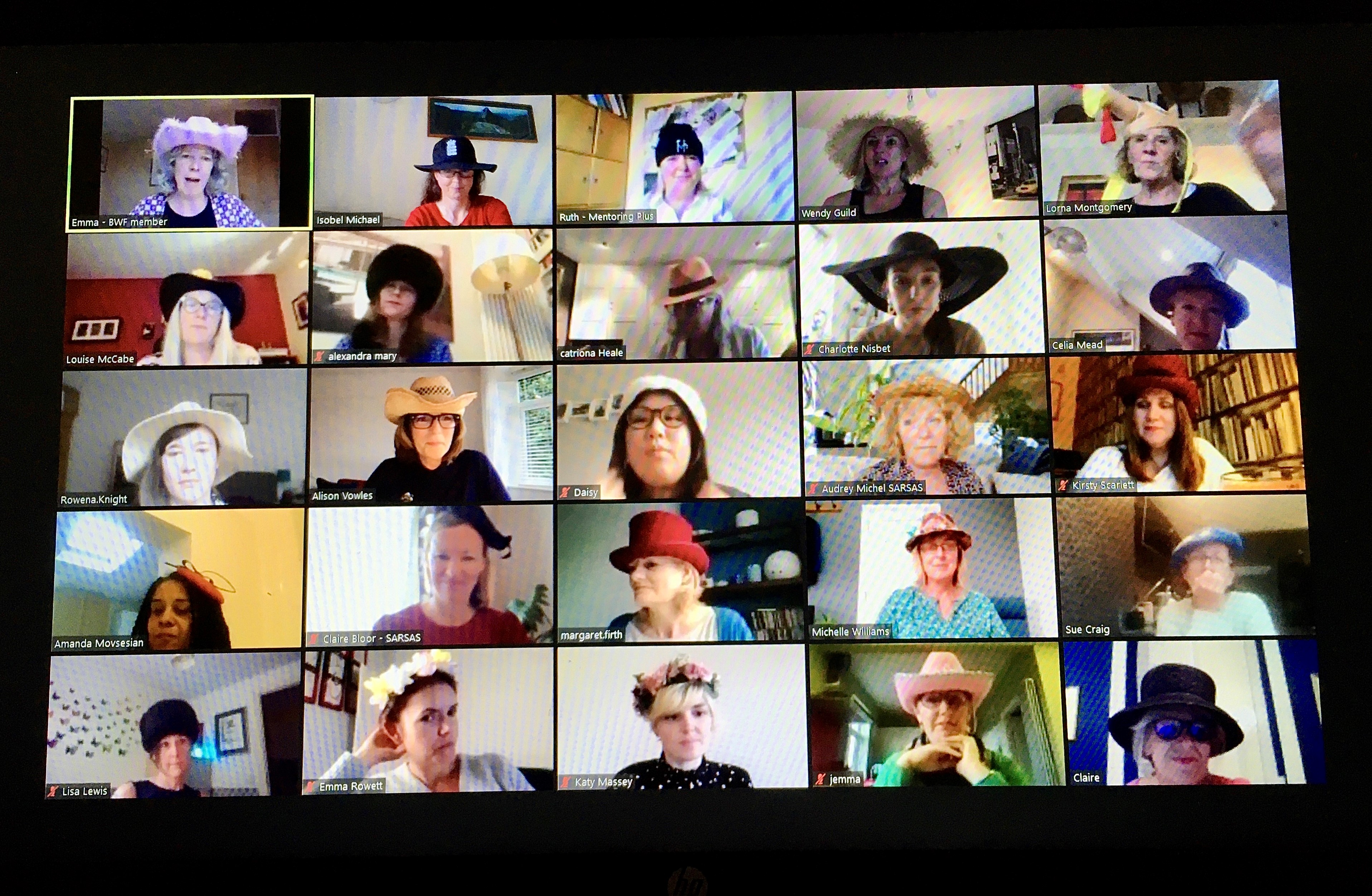 Social Events
Throughout the year, we hold social events for our members and other like-minded women. Last year we held four Potluck Dinners, where we came together to meet new people, share food and learn about issues affecting local women and families. In February 2020 Bath City Football Club hosted us in Twerton for an evening focused on Women in Sport.  We heard from Helen Donovan about the work of the Bath City's Foundation, from Mary Matthews about Women in Sport and from an amazing panel of local sportswomen:
Keziah Trump
Sarah Jackson
Donna Creighton
Ashleigh Pittaway
Hannah Hall
Hannah Lees
Tracey Seymour
all interviewed beautifully by Ali Vowles.
Our face to face events are currently on hold but we have plans for some virtual meetings. To find out about the next events we have planned, please sign up to our mailing list.
How Giving Circles Work
Giving Circles operate around the World. They work by pooling member's resources and giving to good causes.
Using this approach for the Bath Women's Fund will mean that members will:
connect more directly with local organisations
learn about local issues
share the joy of giving, and
get involved more deeply in philanthropy and how funds are allocated to achieve the greatest impact
Giving Circles are also about having fun and bringing together a like-minded group of socially-aware professional women.
Our story so far
Co-founder, Isobel Michael, was inspired by seeing Melbourne Women's Fund in action when she was working in Australia. Isobel is a Bathonian and a fundraiser and shared her vision with fellow co-founder, Emma Beeston, who works as an advisor to philanthropists and Foundations. Both agreed that there was the need and opportunity in Bath to set up a giving circle.
On Thursday 4th October 2018, over 50 women gathered in The Chapel at St John's Foundation to launch the Bath Women's Fund. Inspiring local female role models including Wera Hobhouse MP, Professor Carole Mundell, Amy Williams MBE, Sharron Davies MBE and Councillor Karen Walker spoke about the power of women coming together to give and support other in their community.
Get In Touch
For further information, please get in touch with Isobel or Emma:
Or follow us at:
Search St John's for events, activities and more…