Prior to the nationwide lockdown, our Community Outreach Programme was busy delivering a varied weekly timetable of activities for the over 55s across Bath and North East Somerset.
The carefully curated programme, designed to improve attendees' wellbeing and help them feel less isolated, supports  over 800 people each year, and (pre Covid) operated from four hubs across the region. However, since March, our hubs have been closed and our Community Outreach Team have had to work quickly to transform the way they work.
Following the launch of its new online programme of events,  At Home with St John's, delivered via Zoom, our Events & Marketing Manager, Rebecca Fox, interviewed the team to find out how lockdown has changed the service and, more importantly,  is shaping its future.
How have you been supporting our service users during lockdown?
Due to Covid-19, we obviously had to press pause on our activities programme, and we have really missed connecting with our regular attendees, tutors and partner organisations. We know many of them are missing us too, which is why we have been exploring how we could take our programme into the digital world – until such time as it's safe to re-open our hubs.
We first began thinking around the restrictions, with the creation of our Activities Remotely guide – a weekly newsletter comprising a range of ideas and tips for keeping active, creative and healthy at home. It was really well received, and one issue was viewed over 1,000 times!  Of course, this guide is by no means a replacement for our hubs, as every class gives our attendees the opportunity to develop meaningful friendships, share their skills and learn from an experienced tutor.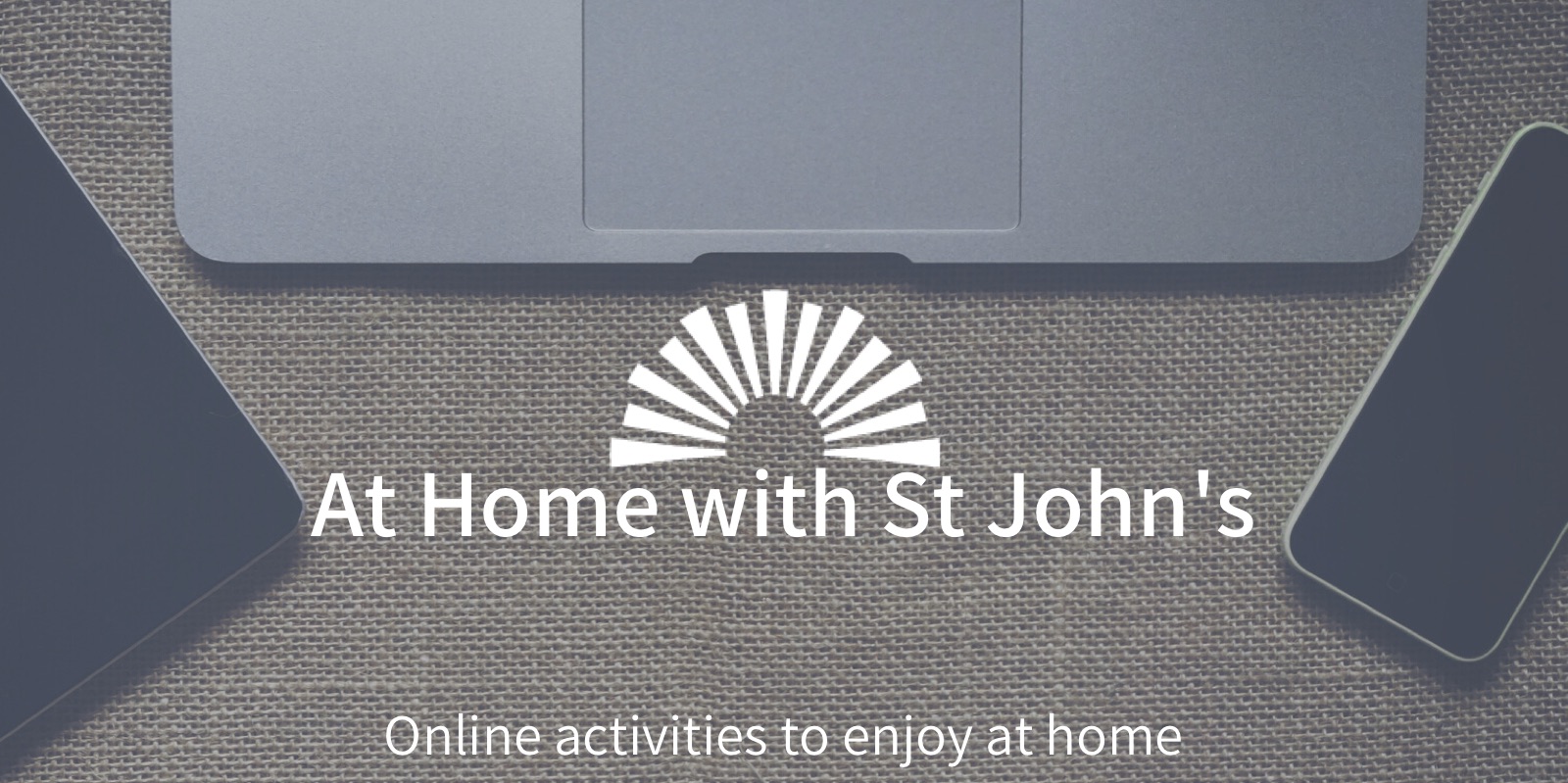 Following the success of Activities Remotely, we worked with our dedicated tutors to develop a programme that we could offer online and live.  And, on Monday 22nd June, we launched  At Home with St John's – a new weekly programme of zoom classes, with activities at 10am and 2pm every day.  We're hoping to add many more classes as we go forward.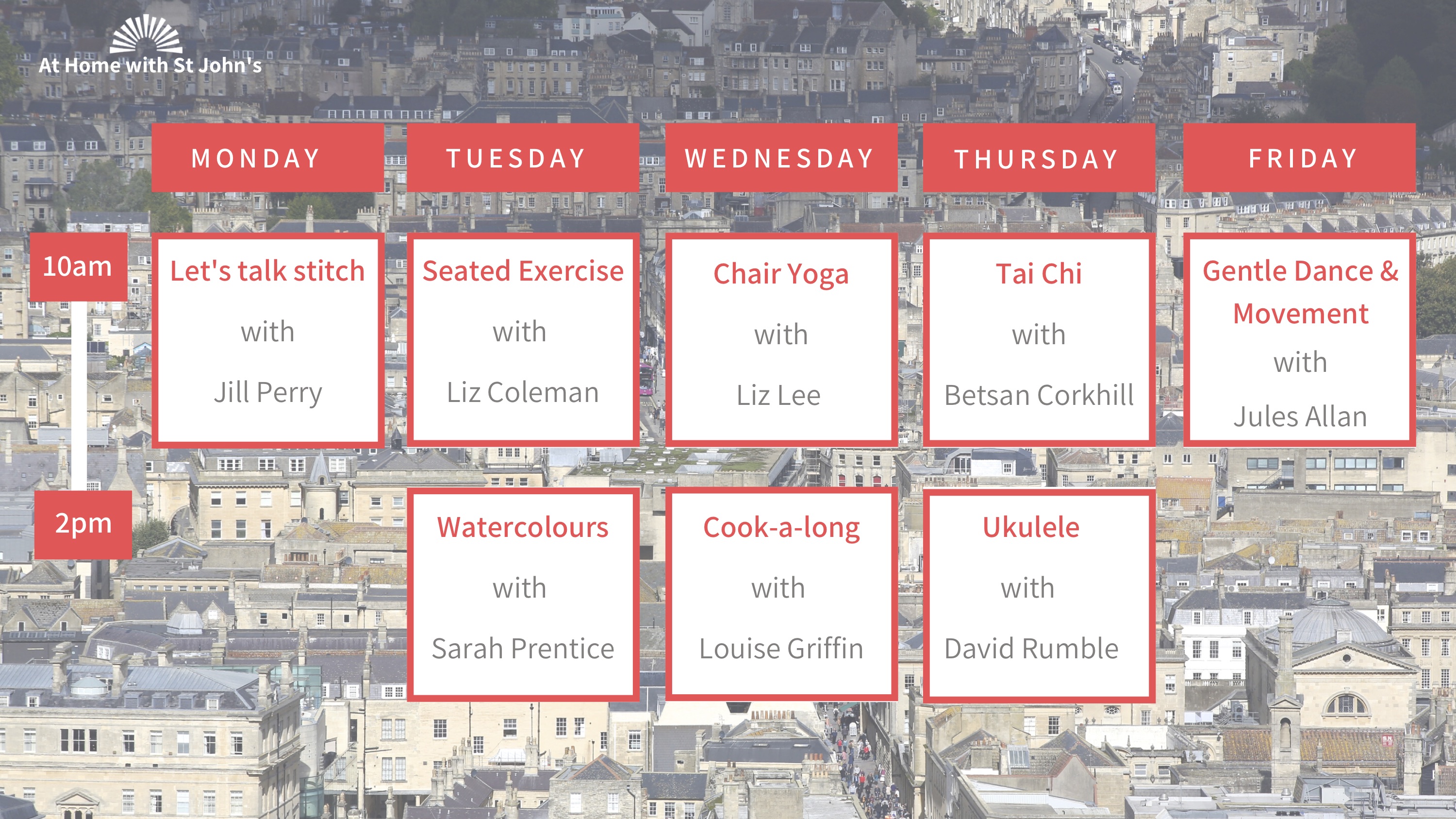 To celebrate the launch, we are offering classes free of charge until Friday 26th June. Some of the classes are almost fully booked, so for anyone looking to join us, we recommend heading over to our website as soon as possible.
From next week, our classes will cost £3.50 each, and booking is now open! To ensure the health and safety of our attendees, we have had to limit numbers in each class, so we do recommend booking in advance.
How have you been supporting St John's residents?
As with our hubs, we had to halt the activities we usually provide at our city centre and Combe Park almshouses. However, we have been busy helping to launch and coordinate St John's 'lockdown support service', which has been really rewarding and given us the opportunity to stay connected with our residents.
Ricky, Community Outreach Manager at St John's, leads our befriending service – whereby St John's staff make regular calls to our residents to ensure they never feel isolated during lockdown. We have made hundreds of calls so far, and the feedback has been wonderful.  Sam is responsible for the Activities Remotely Guide, which goes out every two weeks, and Jayne is organising our team of volunteer staff from the wider St John's workforce, who go out daily to shop for our residents.
What challenges are our service users facing?
 We know that life in lockdown can be really challenging, both in terms of physical and mental health and, so, over the last few months we have sent regular emails and made calls to as many of our attendees as possible. During each email and/or call, we have been signposting people to organisations which can offer support and help during this period of isolation.  However, it appears this help is not really necessary as our community of attendees is actually thriving!  Prior to Covid, many of our attendees became firm friends and forged strong relationships through attending our classes. These same relationships have proved vital lifelines during lockdown, and as a result, our offers of support have been met with thanks but politely declined!
We have also heard that some of the groups have actually got together to run their own classes via zoom, and it has been incredibly heart-warming to hear they are keen to continue their learning and enjoy the benefits of group sessions.
What does the future hold for Community Outreach?
Although it may be some time before we can resume classes at our hubs, we are continuing to keep a close dialogue with our partners, so that when the time comes, we can get our programme back up and running as quickly possible.
In the meantime, we will continue to develop At Home with St John's – not only because we recognise some people may not be comfortable travelling to our hubs even once lockdown eases, but also because there are other individuals who have previously been unable to attend our activities -for example due to transport or health issues. By going online, we can now reach even more people across our region and extend our work to reduce isolation.  Our hope is to continue offering our digital programme, even when our hubs spring back into life.
To find out more about At Home with St John's please visit our Community Outreach page here: https://stjohnsbath.org.uk/what-we-do/activities/